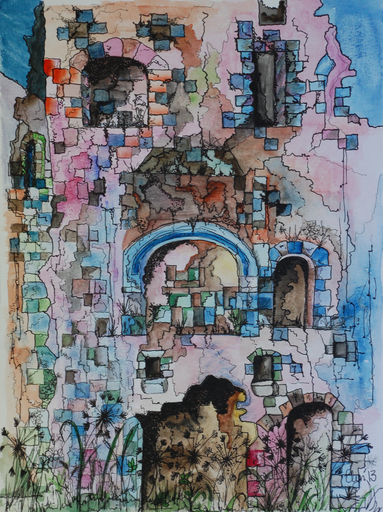 I am living and working in a small village on the river Dordogne in the department of the Lot. I paint, usually in watercolours, but also in gouache and oils. I get inspiration from taking photographs on long walks with the dogs. I am becoming increasingly aware of the potential piece of art in all I see. I love ruined agricultural buildings where nature has taken over once again.
I worked with children in the UK who were autistic and had sometimes severe behavioural problems. We created some fabulous works.
My degree is in Sociology & Psychology.
I was born in 1946 and began drawing at age 2 when I had to go to school with my mother(a teacher) and sit at the back of the class keeping quiet. This immediately after WW II when the male teachers were in short supply.I studied art at advanced level but was not allowed to go to art school as this was considered to be not academic enough in 1965 so I became a teacher like my grandfather ,mother, etc. It is wonderful to feel creative again,and I am so lucky to live here surrounded by such beautiful countryside.
Elyn